Welcome to
Dr-Phil.co.uk
Hello, I am Dr. Phil,
Aficionado of the sounds of the Deep South;
Mississippi, Louisiana, Texas, Alabama, Georgia, Tennessee, the Piedmont, Appalachia,
New Orleans, Memphis and Chicago
1850-1960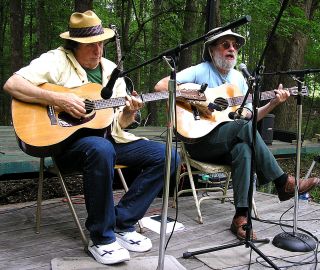 Here I am (on the right) with my friend Gene Bush at the Mississippi John Hurt Festival in Avalon, Mississippi.
I play ragtime, old-timey, skiffle and blues.
I study the history and culture of the Deep South.
I present a radio program, Sounds of the South on our local station, Dunoon Community Radio on alternate Tuesdays. Visit http://www.dunooncommunityradio.org/ to listen in.
In 2011 my biography of the great ragtime, blues and old-timey musician Mississippi John Hurt was published and it has just won a prestigous award from the Association for Recorded Sound Collections
Mississippi John Hurt: His Life, His Times, His Blues
AND
'Discovery'
The Rebirth of Mississippi John Hurt
A CD of the previously unreleased tape recorded at the time of his rediscovery, March 3, 1963 and full of music and conversation with rediscoverer Tom Hoskins
How I became involved in writing the biography of Mississippi John Hurt
Link to Mississippi John Hurt Foundation and Museum